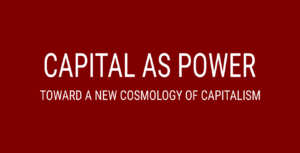 Capital as Power
This site explores the idea of 'capital as power', a radical approach to political economy that conceives 'capital' as a symbolic quantification of power.
Our goal is to foster debate about received wisdom in political economy. As such, we conceive capital-as-power research as non-disciplinary. Contributions from any scientific background are welcome.
Our focus is both theoretical and empirical — a duality that we think is important. It corresponds with what we believe should be a guiding principle for radical research: in order to change the world, we must first understand it.
Editors
Joseph Baines
D.T. Cochrane
Blair Fix
Shai Gorsky
James McMahon
Mladen Ostojic
Ilirjan Shehu
Contact
If you have questions, comments, or would like to submit a working paper, please email casp.editorial@gmail.com.