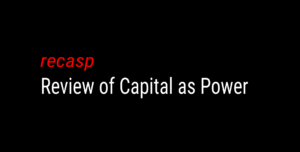 Review of Capital as Power
The Review of Capital as Power (RECASP) is a non-disciplinary, peer-reviewed journal dedicated to the study of capital and capitalism. The journal invites contributions that engage with the idea of 'capital as power' – namely, the notion that capital is a symbolic quantification of organized power, and that capitalism as a whole can be studied as a mode of power. Both empirical and theoretical research are welcome.
Editor
Blair Fix (email)
Publishing Model
Articles are published as Open Access under the Creative Commons licence Attribution-NonCommercial-NoDerivatives 4.0 International (CC BY-NC-ND 4.0)
Fees: There are no fees for publishing in the Review of Capital as Power.
Essay Prize
Each year the Review of Capital as Power sponsors an essay writing contest. The 2022 contest is now open.
---
Latest Articles