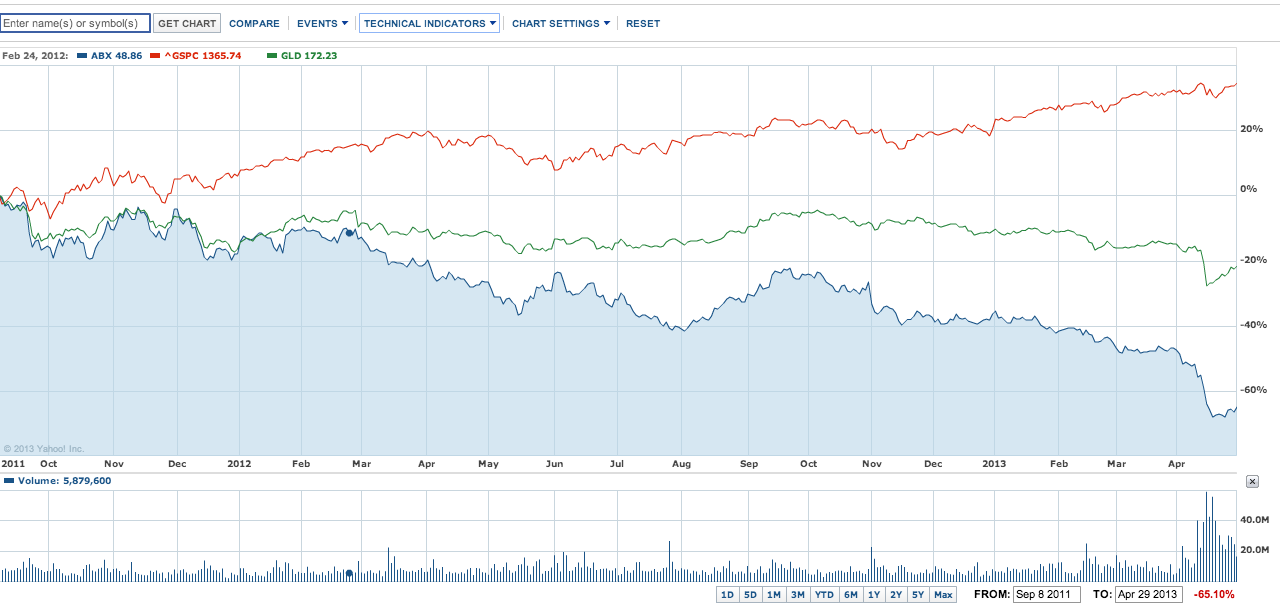 Protest and gold deccumulation
June 2, 2013
DT Cochrane
Activists confronted Barrick Gold CEO Peter Monk and shareholders at the company's annual meeting. A Globe & Mail article suggested: "The long term outlook for Barrick shares hinges on many factors: the gold price is obviously the biggest driver, but the company also faces vociferous opposition from environmentalists and many residents around its mine sites, which should be a long term worry for shareholders." In the chart below, Barrick (blue) is compared to SPDR Gold Shares (green), a trust that holds bullion and replicates the price fluctuations of gold.
Since a peak in Sep 8, 2011 – where the chart begins – the price of gold has dropped just over 20%. Barrick, however, is down 65% as of April 29, 2013, while the S&P500 (red) is up more than 35%. Other Canadian-based mining companies suffered 50% declines over this time period, and the fifteen percentage point differential could possibly be attributed to the far greater activist attention paid to Barrick.
[1] A screen grab from http://finance.yahoo.com
[2] The S&P/TSX index is basically flat.